La nueva edición de los Premios ARQUITECTURA ha dado inicio, organizados por el Consejo Superior de los Colegios de Arquitectos de España (CSCAE) y patrocinados por COMPAC, con el objetivo de acercar a la sociedad los valores de la arquitectura y su importancia en el bienestar, salud y seguridad de las personas, así como en la construcción de un mundo más sostenible.
En esta edición se reformula el Premio Compromiso para reconocer trabajos de divulgación y difusión arquitectónica, innovación y emprendimiento, entre otras formas de ejercer la profesión. Además, se otorgarán seis distinciones basadas en valores universales, culturales, artísticos, profesionales y éticos, como el Premio Sostenibilidad y Salud, Premio Nueva Bauhaus, Premio Hábitat, Premio Re a la rehabilitación, y el Premio Profesión. También se premiarán tres reconocimientos especiales: el Premio de Arquitectura Española, el Premio de Urbanismo Español y el Premio a la Permanencia, que reconoce las obras que destacan por su durabilidad, correcto envejecimiento y vigencia.
Los trabajos podrán ser presentados hasta el martes 28 de febrero y deberán haber sido finalizados entre el 1 de enero y el 31 de diciembre de 2022.
This may also be of interest to you
Los ganadores serán anunciados en junio, durante una gala en la que también se entregará la Medalla de Oro de la Arquitectura.
Los Premios ARQUITECTURA son el resultado del cambio de enfoque que el CSCAE dio en 2021 a los reconocimientos que venía otorgando desde 1981. La primera edición fue un éxito con 650 propuestas presentadas, lo que refleja la buena salud de la arquitectura española y la calidad del trabajo realizado.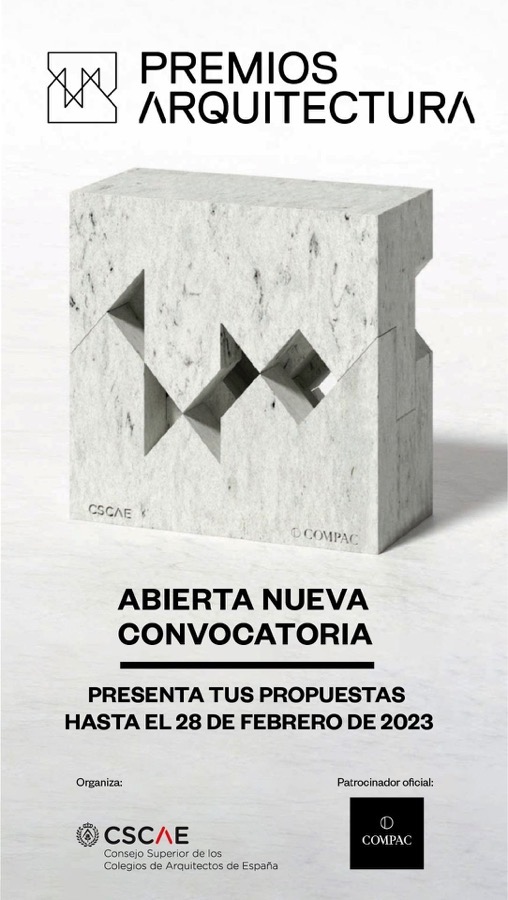 Editor en Jefe de edgargonzalez.com. Profesor /Conferenciante /Curator y Consultor de tendencias e innovación en la intersección entre la arquitectura/diseño, tecnología y difusión desde EGD (Edgar Gonzalez Design).
Director academico del grado en Diseño de la ie College College of Structure and Design.
* también es mexicano, arquitecto e iconoclasta de vez en cuando, aunque no necesariamente en ese orden.
Puede que también te interese…
Source link